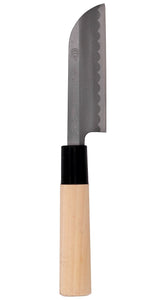 Kikuichi Tatsutogi 100mm Kawamuki
Regular price
$60.00
$0.00
Unit price
per
With its short blade, the kawamuki was designed for in-hand tasks such as peeling and garnish preparation. It has a short, double-beveled edge like a Western paring knife.
Tatsutogi is Kikuichi's most cost-effective traditional single bevel series. Hand-forged in the sword-making tradition from two pieces of carbon steel, the tatsutogi series also features many uncommon, specialty knife shapes. With a soft steel as the edge, these are easier to sharpen, making them good beginner Japanese knives.
Professional Lifespan
3+ Years
Blade
2 Layers; Hand-Forged
Edge
SK Carbon Steel
Spine
Soft Carbon Steel
HRC
57-60
Bevel (Bevel Ratio)
Double (50:50)
Handle
Wa Handle
Japanese Magnolia
Water Buffalo Horn or Resin Ferrule
CAUTION - Blade will patina and may rust if left wet. This is NOT a stainless steel. Always hand-wash and hand-dry knives. Use caution when cutting anything that may contain bones, pits, seeds, hard pieces, or was previously frozen.
---
Share this Product
---